The gym conveniently located next door to Sutton's cricket club on Gander Green Lane, is currently being refurbished, upgraded and rebranded to convert it into a new
Welcome Gym
, which launches on 1st May 2019.
Welcome Gym is the trading name of The Fitness Trust, a not-for-profit organisation formed in 2016, whose aim is to provide professionally run, high quality and accessible gym facilities at an affordable cost. Its mission is to reach out to a wide demographic in the community, and to promote better health choices by providing a broad and engaging programme of fitness and health activities, in a non-intimidating and friendly atmosphere. Any profits will be reinvested into the facility, enabling the club to continually grow and improve the experience for its members, and to have a positive impact on their physical and mental health, wellbeing and self-esteem. Including the Sutton club, Welcome Gyms now operates six gyms across the country.
With ample free parking for members on site, making it very easy to access, the light and spacious
Welcome Gym Sutton
club boasts the following excellent facilities: -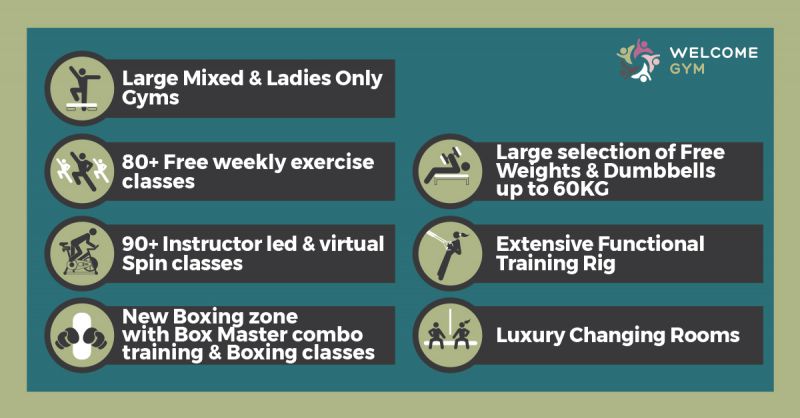 A large, well equipped mixed gym with treadmills, bikes and rowers, including a great functional training area with an extensive range of equipment, including a lifting platform with a range of bumper plates, sleds, X Cube, functional rig and a large matted stretch space.
A Leg Day zone equipped with squat racks, resistance machines and a Roman chair for functional movements.
A generous free weights zone with the largest selection of weights in the Sutton area - up to 60kg.
A purpose-built spin studio where you can enjoy a fun and effective workout on one of the 24 static bikes without the traffic and bad weather associated with cycling outdoors. There are an impressive 105 weekly spinning classes to choose from each week, both instructor-led and virtual on-demand.
A dedicated boxing zone with BoxMaster combo training, plus 8 weekly boxing-based classes, which are included in the gym membership fee.
A popular Ladies Only gym, accessible only via the ladies' changing rooms - a dedicated safe space for women who would prefer a little privacy whilst working out, for cultural reasons or to enable them to build confidence. This is kitted out with treadmills, a cardio bike, a cross trainer, a rower and all the other equipment needed for a comprehensive workout.
A separate airy studio where a huge variety of instructor-led group fitness classes from Apex to Pilates, yoga and Zumba are held every week, early 'til late - all included free within the cost of gym membership. There is something for everyone in the mix, including a selection of Ladies Only classes. The diversity of classes, which add learning, variety and fun to members' exercise regimes, is one of the key ingredients that makes gym membership at Welcome Gym Sutton so appealing.
The best news is that, notwithstanding all these incredible features, plus a great team of friendly well-qualified and approachable staff, who are always willing to offer help and guidance, Welcome Gym Sutton is currently the cheapest and best-value gym in the area with a variety of flexible membership options and a 12-Month Plan priced at only £17.99 per month. As the club is re-branded as a Welcome Gym, a number of exciting improvements will be happening over the coming months: -
The car park will be re-tarmacked and the parking bays re-marked.
The boxing area will be improved with a 125kg heavy bag, an uppercut bag and a focus bag.
New 50-60kg dumbbells will soon be available.
Redecoration and rebranding of the club with new signage inside and out.
The Men's showers will be overhauled with 5 brand new cubicles, showerheads and pipework.
More 15kg, 20kg and 25kg weight plates will be added on the gym floor.
By 30th June, nine plate-loaded pieces of equipment will be installed, including a Hack Squat, Lying Ham Curl, Seated Calf Raise, Lateral Pull Down, Incline and Decline Chest Presses, Shoulder Press and Rear Kick.
20 more group fitness classes will be added to the timetable, bring our offering up to over 90 classes per week!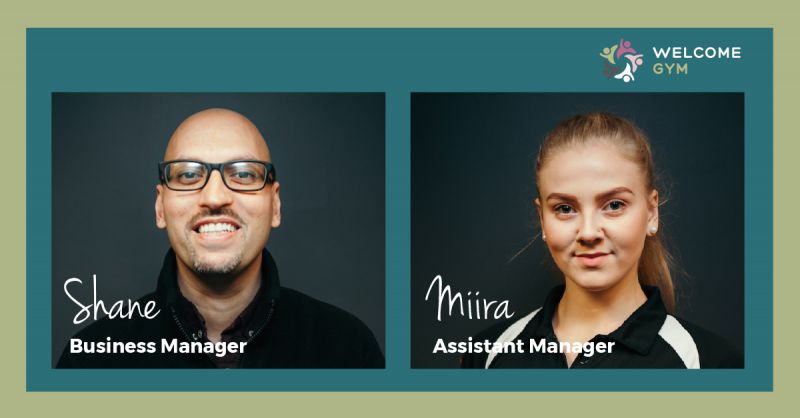 The team is led by enthusiastic Business Manager, Shane Linehan, who has worked in the fitness industry for 15 years, much of which time he spent managing the Fitness4Less club in Watford, before transferring to Sutton two years ago. Shane is ably assisted by Miira Hietala, who teaches spin four times a week and who enjoys competing in fitness contests. Both Shane and Miira have a passion for exercise and they are well supported by a great team of qualified fitness instructors and apprentices that are keen to work in the fitness industry. In addition, the club offers the option of investing in personal training from a diverse team of experienced in-house professional PTs. A free ½ hour personal training taster session is included in gym membership.
The whole fitness team is enthusiastic about the club's transformation into a Welcome Gym with its ethos of inclusivity and friendliness. They hope that the club will attract even more members, all working hard to improve their health and fitness, whilst making Welcome Gym Sutton an outstanding leisure facility and a great social hub, where friendships are forged and where people make fitness an important part of their lives.
To find out more and join us at Welcome Gym Sutton, please visit our
website